On Dufur Hill, Poems by Penelope Scambly Schott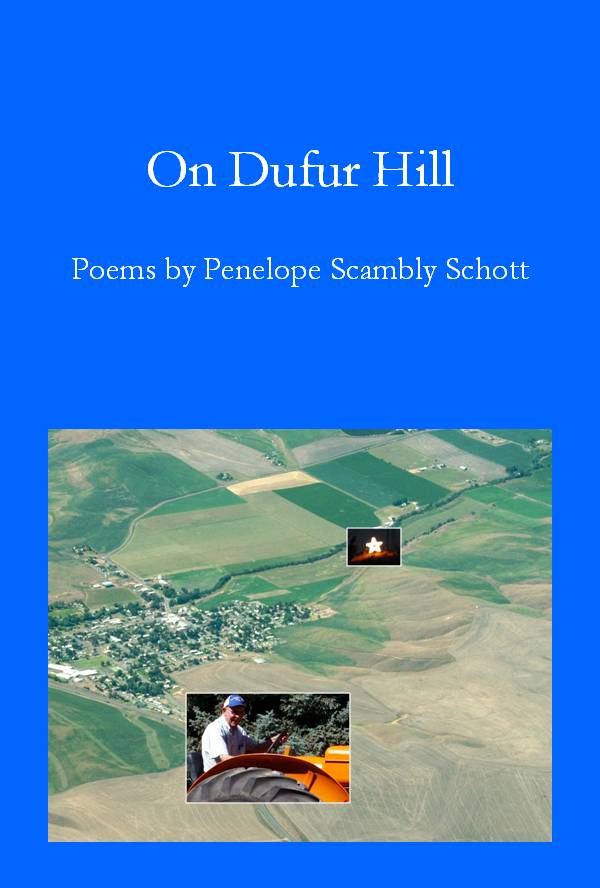 Penelope Scambly Schott's On Dufur Hill is a fascinating study of the great truths that can emerge from the smallest of places.
Sample Poems by Penelope Schott
"This whole book is one long love poem to Dufur, Oregon, a small town (population 623) in north-central Oregon, and it's also a love poem to small town American life. The landscape includes a 'field of retired combines / resting like ancient beasts,' a 'bathtub asleep on its four clawed feet,' the sky a 'clear Pyrex bowl.' There are fields of winter wheat and snow-capped mountains, crooning coyotes, tall grain elevators, acres of wildflowers: yellow balsamroot, blue lupines, orange paintbrush, columbine, with Fifteen Mile Creek running through, its 'curving course,' its water 'that talks all night.' Schott has fallen, and fallen hard, for this land, this town, and the people who inhabit it. And, dear reader, you will, too."- Barbara Crooker, author of The Book of Kells (Cascade Books), winner of the Best Poetry Book 2018 Award from Poetry by the Sea and Some Glad Morning (Pitt Poetry Series).
"Penelope Scambly Schott's new book of poems, On Dufur Hill, celebrates a place that to most of the world remains invisible- the farming community of Dufur, Oregon. One particularly moving poem, 'I Don't Hear the Train,' commemorates the Great Southern Railroad that no longer runs through 'towns that are mostly gone,' where 'even the tracks are gone' and 'only the songs of nighttime coyotes continue to travel / between the soft hills….' In a series of powerful poems, the section 'Summer (and Fire Season)' addresses the terrible fires of 2018, the firefighters, the volunteer women who feed them, the farmer John Ruby who dies 'creating a fire line [to] protect his neighbor's property.' For Schott this place has become a heart's-home, and she writes about it with tenderness, levelness, and wit. 'All these years you have wanted,' she says to herself at one point, 'to stand exactly here.'" - Ann Fisher-Wirth, author of The Bones of Winter Birds and Mississippi, and coeditor, The Ecopoetry Anthology
"Living and running a business in a small town, I can sometimes think that I am somehow missing out on the excitement of the city. In On Dufur Hill, Penelope Scambly Schott brings into focus the little things that actually make for a full life. This wonderful journey through the seasons warmed my heart and was equal parts laughter and tears. I will never be able to watch a tumbleweed roll by without smiling and saying hello."-Josiah Dean, owner of the Historic Balch Hotel in Dufur, Oregon (#1 rating for Top Travel Destination in the Columbia Gorge, #7 in Oregon)
ISBN: 978-1625493453, 122 pages, $12000