Talking to Strangers: Poetry of Everyday Life, Poems by Peter Carroll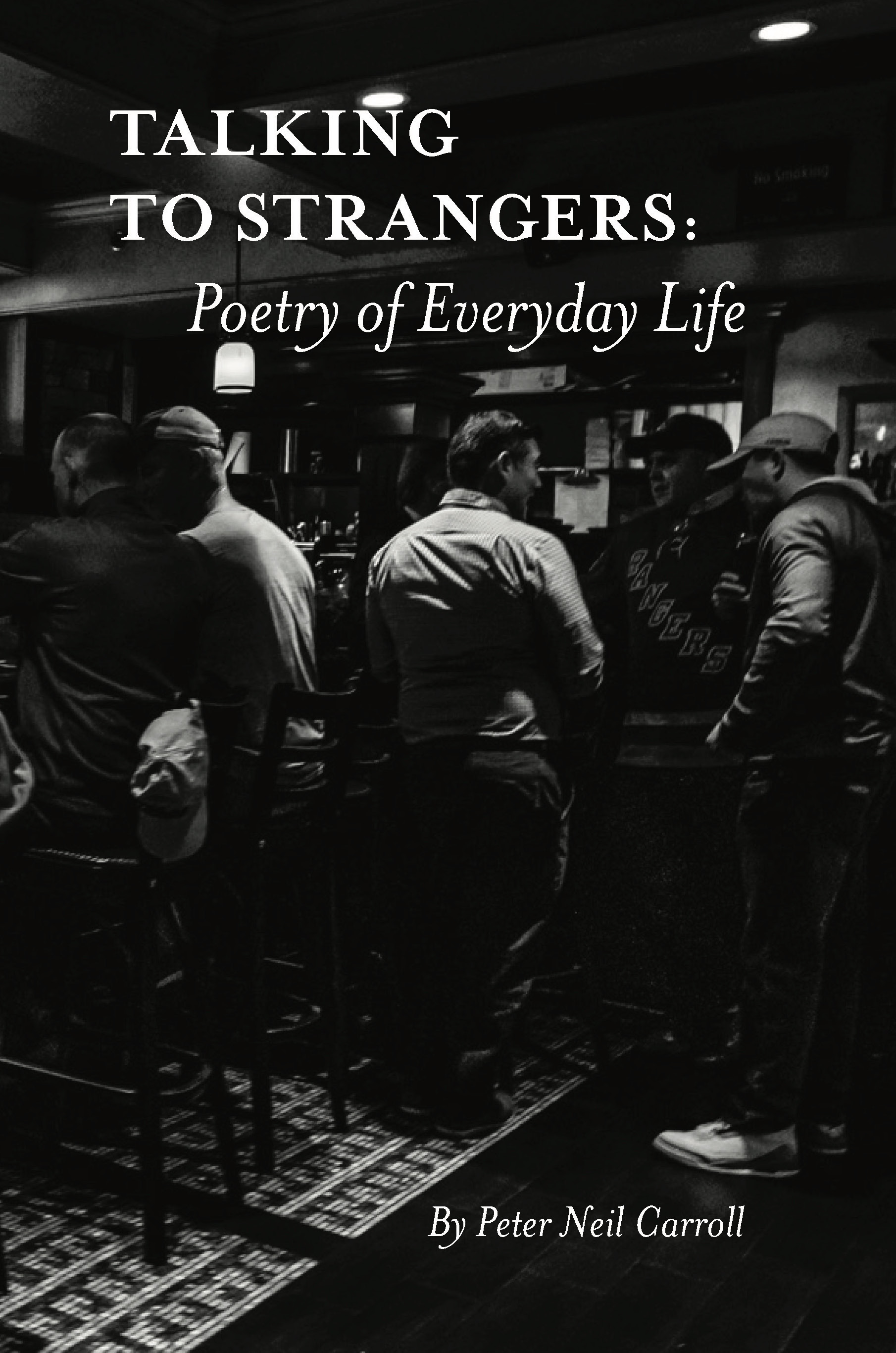 The multiplicity of voices in Peter Carroll's poems ensure that no one is, truly, a stranger.

"Peter Carroll's vivid, lively, immensely readable poems would have you believe he has no illusions. He knows things are terrible. What people crowded together are capable of he also knows, being a tough-minded expatriate New Yorker. But something has caused him to go back to Manhattan and encounter people, listening to as many of their stories as he can, remembering his own. Some are hilarious: the strangers thrown together in a dark stalled subway car bonding together over advice about hair care; his memory of his own 5-year-old self on the way to kindergarten telling a playmate who wants him to stay and play with her, 'I need to go. / Do you want your husband to be stupid?' Yet Carroll, with his historian's dispassionate eye and sense of time, doesn't flinch from the darkness of the great city, where the homeless struggle to stay alive during a snowstorm, where lives are played out on the street and you can't help but see. Nor does he shy from the knowledge of what America has become. The truth is, Peter Carroll loves the world, wants to save it, and tries to. His passion shines through these poems. He approaches his work the way his grandpa Izzy, the intinerant glazier, approached his: '…he loved the glass he cut/ because of all the light, he said, it brought to life.'" - Charlotte Muse
"Peter Carroll's new book showcases not just his talent as a raconteur, but his boundless enthusiasm for life, offering incidents brimming with the offbeat and evanescent. With music that is both incisive and colloquial, he puts us in mind of other chroniclers of the American spirit, Ted Kooser, Philip Levine, and, of course, Whitman. Walking the streets of New York, sitting in coach, or riding a barstool, he observes life's dramas wherever they occur. Nothing is too small or unimportant to evade his attention. Carroll invites us to approach the people and things around us with total openness. Untold riches await."- Lee Rossi
"Peter Carroll's poems are full of people. He sees strangers everywhere, and he watches them closely, carefully observing them, then turning their lives into elegant poems. Through his poetry, he brings the world he sees to us all."-Esther Cohen
Peter Neil Carroll is the author of several previous collections, including Fracking Dakota, Riverborne: A Mississippi Requiem and A Child Turns Back to Wave: Poetry of Lost Places, which won the Prize Americana in 2012. Other books include the memoir Keeping Time. His poems have appeared in many journals. He has taught creative writing at the University of San Francisco, taught history and American Studies at Stanford and Berkeley, and hosted "Booktalk" on Pacifica Radio. He lives in northern California with the writer/photographer Jeannette Ferrary.
ISBN-13: 978-1625493989, 100 pages, $19