They, Poems by Sue Ellen Thompson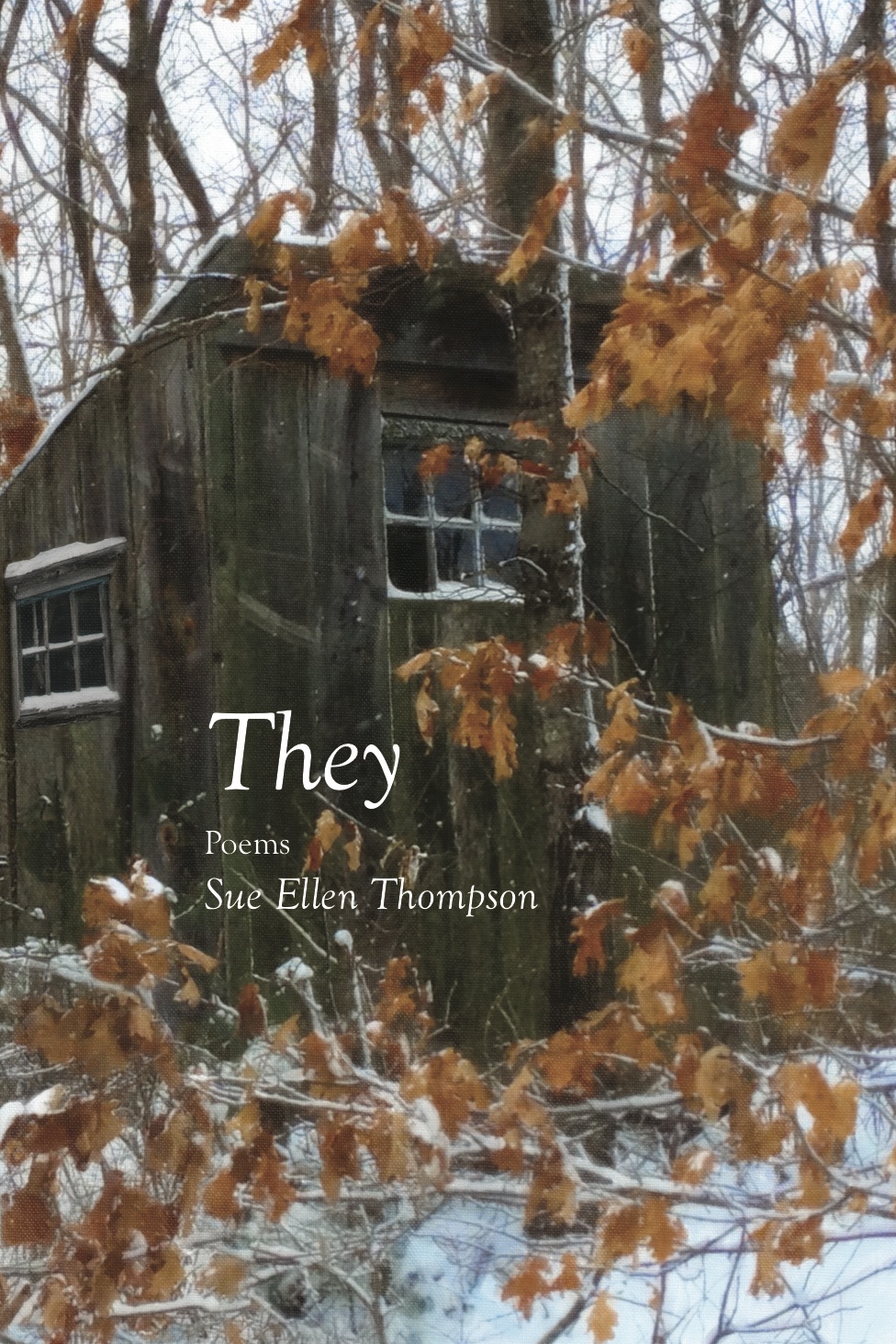 The poems in They tell the story of a mother, her aging father, and her transgender child. As the mother struggles to understand her adult child's emerging identity, the daughter takes it upon herself to remain close to her grandfather, a World War II veteran and former P.O.W., as he faces his final years alone. She writes him postcards as she travels around the country, and it is this one-sided correspondence that reveals her abiding love for a man who raised five children in the post-war years and must now grapple with issues he has never had to confront. These poems explore the challenges that gender identity poses to three different generations.
Sample Poems by Sue Ellen Thompson
"Sue Ellen Thompson's They gifts us with verse that is probing, plainspokenly poetic, and unflinchingly honest. The focus of the book is the loving if unlikely bond between Thompson's conservative father, a World War II bomber pilot and ex-POW, and her alternative daughter, whose outsider status casts her as a warrior for acceptance in a world where intolerance and misunderstanding too often preside. I was moved and shaken by this graceful and unforgettable collection."--Wally Lamb, author of We Are Water
"Sue Ellen Thompson's new book of poems, They, is accomplished, formal, eloquent, and moving. It has a surprise at its heart: we come to know that Thomasin, the poet's daughter, has become Thomasin, the poet's son, her grandfather's longed-for grandson--who is still Thomasin, both loved and loving, their inheritor. The mother/poet refuses to be shut out by her adult child, 'who isn't at all/what I thought I'd received when the nurse/handed me my package.' Poems about family change, body and soul, reveal that character and courage are needed to change in company with family. Read this book. It may change your life."--Hilda Raz, author of What Becomes You, with Aaron Raz Link, and Trans
Praise for Sue Ellen Thompson's The Golden Hour (2006):
"It is a book of both courage and the finest sort of craft: elegant, wild, beautifully disciplined quatrains and casually rhymed sonnets; seemingly effortless yet stunningly precise tropes...the utterly fluid syntax with its subtle pulsations, and that Donne-like marriage of the conceptual and sensuous. As I write this, it is 2 a.m., and I am reading some of these poems to my wife. So beautiful, she says."--B.H. Fairchild, author of Usher and winner of the Kingsley Tufts Poetry Award
Sue Ellen Thompson is the author of four previous books of poetry and the editor of The Autumn House Anthology of Contemporary American Poetry (2005). Her work has been included in the Best American Poetry series, read on National Public Radio by Garrison Keillor, and featured in U.S. Poet Laureate Ted Kooser's nationally syndicated newspaper column. A graduate of Middlebury College and the Bread Loaf School of English, she was a scholar, fellow, and staff member at The Bread Loaf Writers' Conference for many years. She has taught at Central Connecticut State University, Binghamton University, Wesleyan University, Middlebury, and the University of Delaware. Although she has spent most of her adult life in Connecticut, she moved to the Eastern Shore of Maryland in 2006. Since then she has been a mentor to adult poets and an instructor at The Writer's Center in Bethesda and Annapolis. In 2010, she received the Maryland Author Award from the Maryland Library Association.
ISBN 978-1625490988, 98 pages, $18.00