Late, Poems by Carole Stone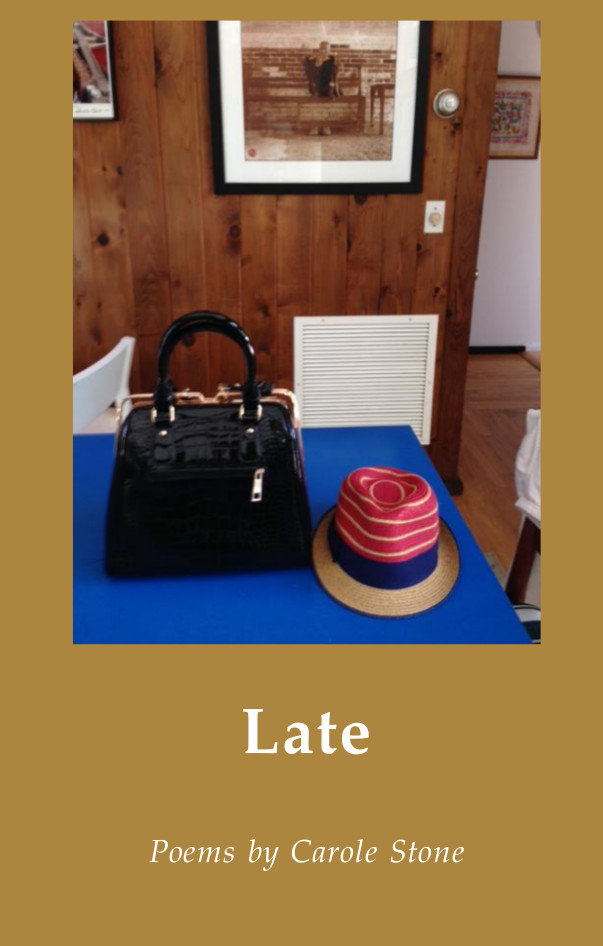 It is never too late to savor the crafty poems of Carole Stone's Late.
"Late meditates on a life lived through with feisty humor, courage and inveterate book love. In childhood the poet's lifeboat is the public library where she remembers 'touching the books as if they were parents/who could fill you with knowledge.' Later in Late, spot-on-tributes to beloved authors appear. Edna St Vincent Millay is honored in a deft sonnet. James Joyce recalled when attending group recitations of Finnegan's Wake. Musing on a final resting place she writes 'I am almost sure/I have not wasted my life' and we hear reverberations of the poet James Wright. Frank O'Hara's Lana Turner gets to collapse in Upper Lower Michigan. Keenly observant, wonderfully human, Stone's book is as vibrant as it is brave."—Colette Inez
Carole Stone has published several previous collections of poetry as well as numerous critical essays on writers, among them Edna St. Vincent Millay, Sylvia Plath, and George Eliot. She has received three fellowships from The New Jersey State Council on the Arts, three National Endowment for the Humanities Summer fellowships, a fellowship from The Geraldine Dodge Foundation to the Virginia Center for the Creative Arts and a fellowship from Rothermere Institute for American Studies, Oxford University, England. Artist's residencies include Hawthornden International Writers Retreat, Scotland, and Chateau de Lavigny, Switzerland. Professor of English, Emerita, Montclair State University, Carole Stone divides her time between New Jersey and East Hampton, NY.
ISBN-13: 9781625491657, 94 pages, $18