Everywhere I Find Myself, Poems by Leah Stenson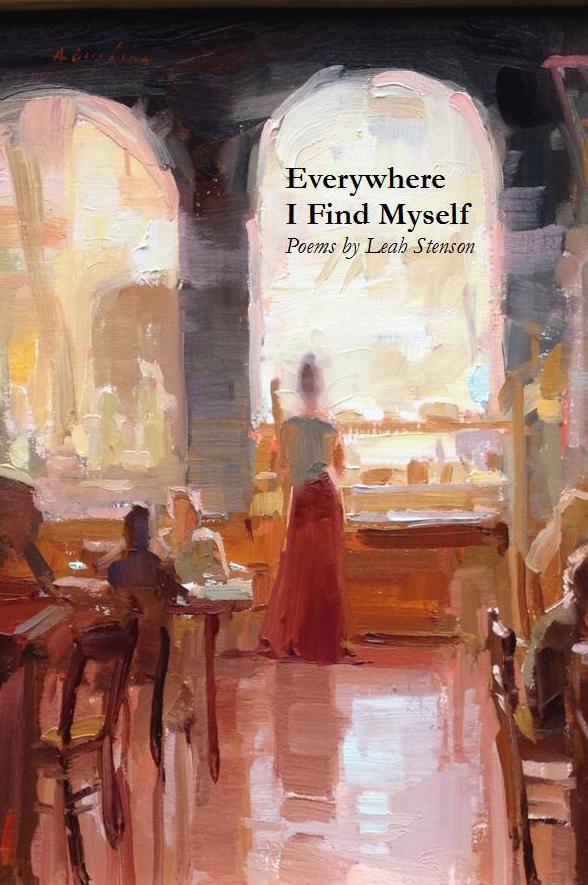 Drawing from a deep well of autobiographical and cross-cultural experience, Everywhere I Find Myself is a wide-ranging narrative journey of the heart.
"Leah Stenson's Everywhere I Find Myself traverses the full range of human experience-what she calls the "terrible exquisiteness of being"-from the nuclear disaster at Fukushima to a friendly encounter with a cow; from the distractions of our devices to moments of deep tranquility; from a grandfather's suicide to a daughter's gift of a pair of pillowcases made from fine Egyptian cotton. By turns witty, playful, and deadly serious, these poems give readers one woman's unflinchingly honest take on life's beautiful, painful vicissitudes."-John Brehm, author of Help Is on the Way and Sea of Faith
"In this engaging and satisfying first full-length collection of poems, Leah Stenson explores the tensions between mystery and understanding, and between estrangement and belonging. The world of these poems-our world-is simultaneously expansive and confining, and Stenson travels through it seeking connection. 'Home / wasn't far away,' she tells us, 'but the road never ended'."-Andrea Hollander, author of Landscape with Female Figure, Woman in the Painting, The Other Life, and House Without a Dreamer
"Eternity can be heard in the stir of the breeze, in the vineyards, the whisper of prayer," the poet writes in Everywhere I Find Myself. The poems explore love, memory and deep loss with equal verve. With an artist's sharp eye for detail and a philosophical world view Leah Stenson is a savvy traveler. Her wry wit, compassionate heart and spirit infuse this vivid, engaging collection."-Marilyn Stablein, author of Climate of Extremes, Splitting Hard Ground, and Sleeping in Caves
After graduating with an M.A. in English Literature from State University of New York at Stony Brook, Leah Stenson worked as an assistant editor in New York City for Hawthorne Books and School Library Journal. She moved to Tokyo to pursue a spiritual quest to deepen her understanding of Buddhism and spent 16 years teaching English at a Japanese university and women's junior college. Upon returning to the United States, she served as managing director of Oregon Peace Institute while providing editorial assistance to the SGI Buddhist organization headquartered in Japan. She is an active member of her Buddhist community, serves on the board of Tavern Books and hosts the Studio Series, a monthly poetry reading and open mic.
Her poetry has appeared in literary journals such as Oregon Literary Review, Cloudbank, Verseweavers, VoiceCatcher, Colere, San Diego Poetry Annual and numerous other periodicals. Her chapbooks, Heavenly Body (2011) and The Turquoise Bee and Other Love Poems (2013) were published by Finishing Line Press. She served as a regional editor for Alive at the Center: Contemporary Poems from the Pacific Northwest (Ooligan Press, 2013) and as a co-editor with Asao Sarukawa Aroldi of Reverberations from Fukushima: 50 Japanese Poets Speak Out (Inkwater Press, 2014), an award-winning finalist in the "Social Change" category of the 2015 USA Best Book Awards.
ISBN: 978-1625492500, 102 pages