Night Shift, Poems by Serena Fox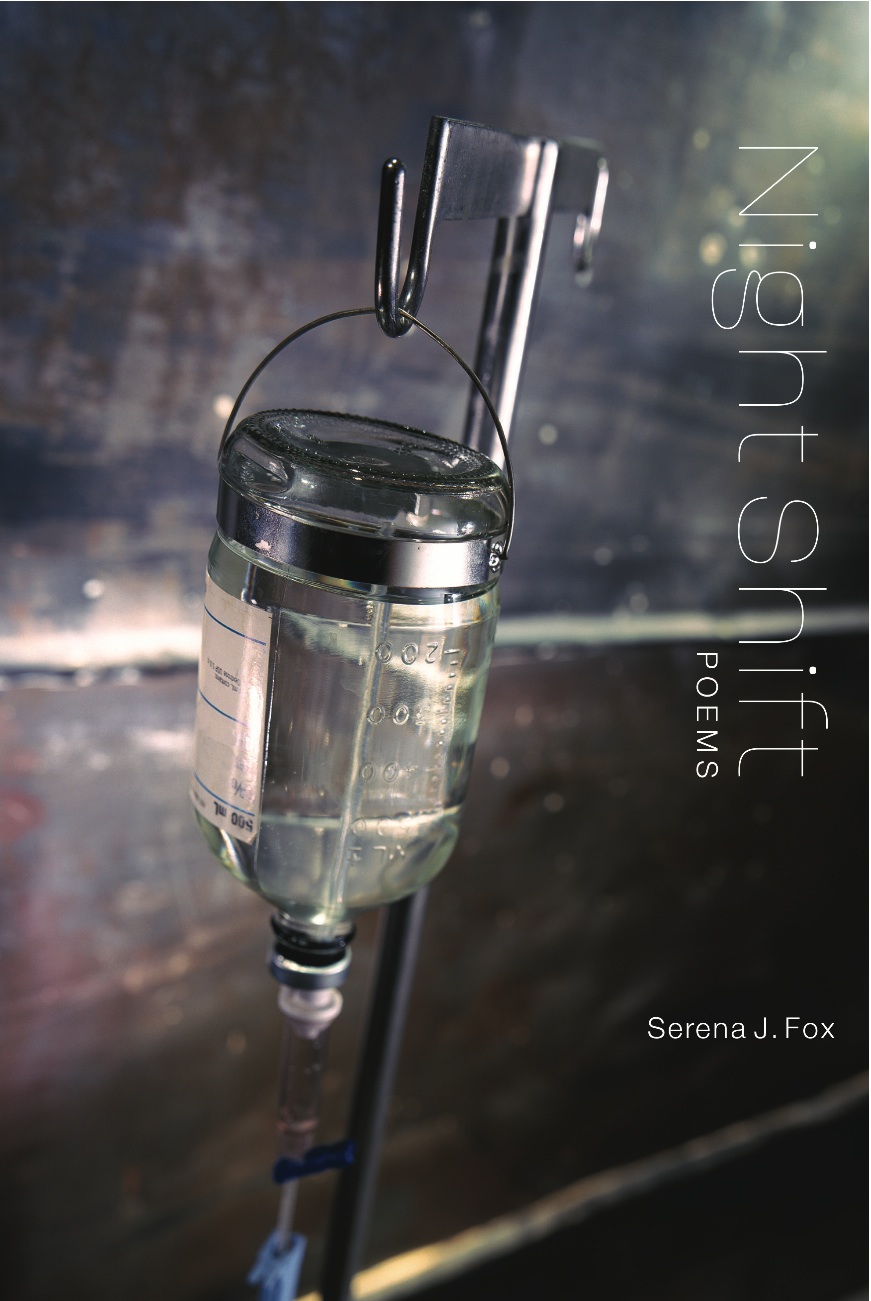 The poems of Serena Fox's Night Shift are a cacophony of pain and voices. Yet from the chaos of an emergency room, Fox draws healing, and art.
"Urgent, candid, lyrical, and never for the faint-hearted, Serena Fox's poetry summons itself in response to extremes. She is the fierce documentarian of her life as an emergency room physician and of the lives of other doctors under enormous pressures. Whether she witnesses the beginning of the AIDS crisis or tracks other physicians as they cope with the Bosnian war, Fox's compassionate, panoramic sweep (coupled with her unobtrusive control of craft) makes each poem a juggernaut headed for a point poised between life and death. But life and death are the great subjects of poetry, and each poem in Night Shift confirms the power of their meeting place in moment after sharply observed, explosive moment." —Molly Peacock

"The explosive poetry of Serena Fox's Night Shift deploys a physician's experience in Intensive Care— the phrase could be an alternate title for the book—to frame large questions about all human life: life as fragile and persistent, in Fox's intense and caring vision as plants that live on the slopes of a volcano." —Robert Pinsky
"Serena Fox, a compassionate and observant physician, represents her thoughts masterfully as a poet and humanist. Some of these poems are a kaleidoscope vision of the people who passed through the Bellevue Hospital and New York University emergency departments in New York City in the era of AIDS. Some are the detailed descriptions of life as an intensivist in Washington, DC. Others represent the horrors of war, torture and crimes against humanity."—Lewis R. Goldfrank, MD, Professor & Chair, Emergency Medicine, NYU School of Medicine

"This extraordinary treasure of poems is written from the heart of a caring physician about select encounters with her patients. Dr. Fox allows the reader to actually feel in a profound and unforget- table manner the unique connection that she experienced with these patients. I could not put this book down."—Grace S. Rozycki, MD, Director, Trauma/Surgical Critical Care, Emory University School of Medicine

"Of course, the speaker in all these texts—so responsibly accounted for in the Notes on the Poems as to who and what they really are that it is something of an impudence to say they are, for the reader of poetry, anything else—is really the mauled and misused human body, allowed a voice as never before. This is exquisite, exceptional work, of a violence unequalled in my experience. Of course, too, experience is out of the question here—this is not a Reality Program, not a TV Spectacular. What is in question is the language of the poems, adequate to what has no counterpart in expression, as we conceive of expression in 'our' poetry. But I think Dr Fox has changed all the possessives like 'hers' and 'ours' and especially 'theirs,' and we must find a new way to accommodate her mastery, if it is to belong to us, as readers, without possessives of any kind. I am dismayed by this poetry, and grateful that it exists, for it eliminates all comfort, all consent. What it offers is knowledge of the unendurable flesh, which has, Dr Fox tells us, endured."—Richard Howard
For 20 years Serena J. Fox has practiced intensive care medicine in Washington, DC. She is also a consultant in bedside medical ethics and a human rights advocate. Her career was launched in the emergency room of Bellevue Hospital in New York City. She believes deeply that poetry and the humanities have essential roles in the teaching of medicine and care-giving. Her poems have appeared in the Paris Review, the Journal of the American Medical Association and the Western Humanities Review.
ISBN: 978-1934999493, 92 pages