Bridge and Tunnel, Poems by John Hennessy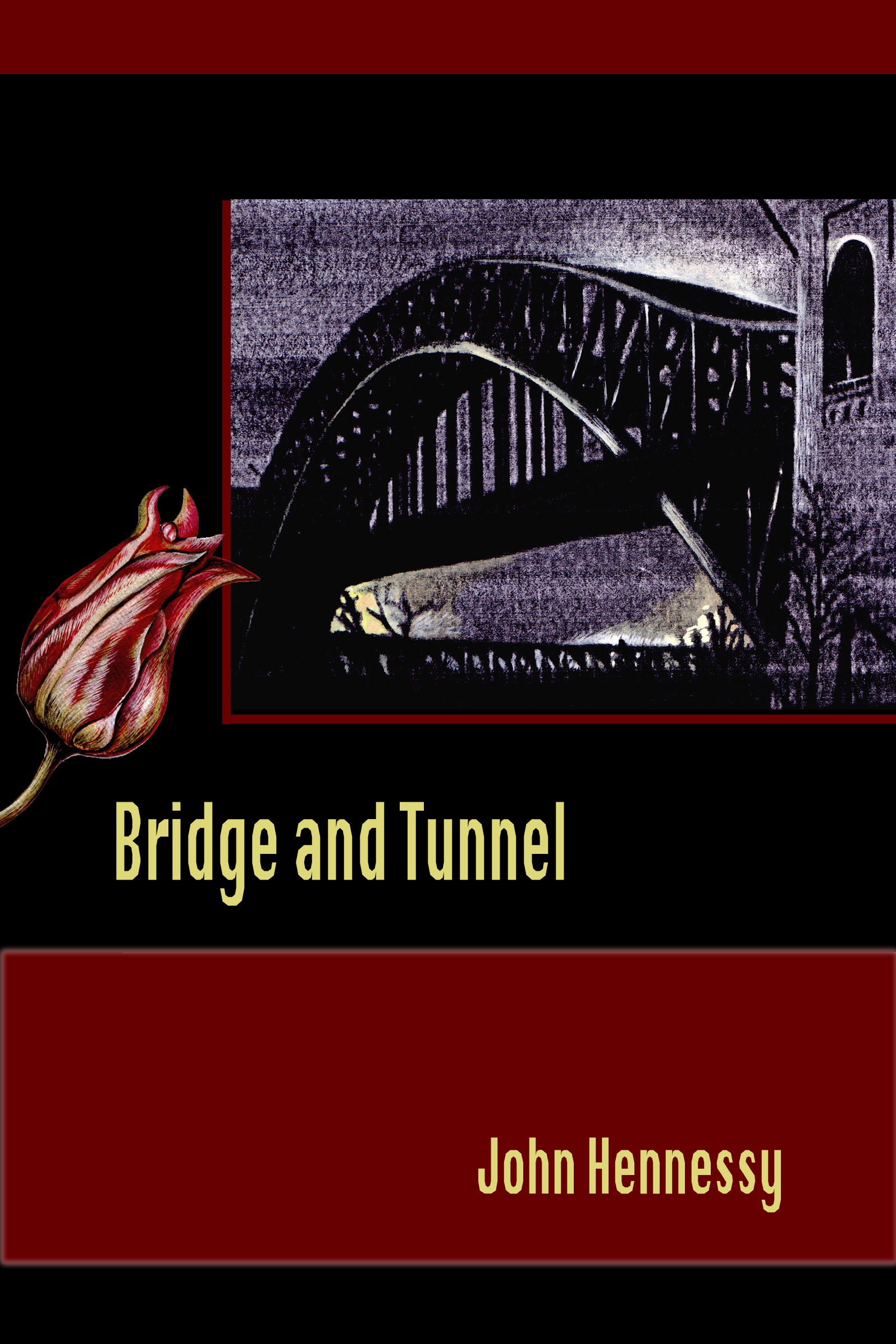 The urban landscape of memory haunts the poems of John Hennessy's collection Bridge and Tunnel. By turns gritty and rhapsodic, these poems make an entire history, an entire world, come to life in the reader's eye and ear.
"In energy-packed lines whose diction dovetails the formal and the colloquial, John Hennessy's Bridge and Tunnel is a genuinely original achievement. America has its bounty of New Jersey poets who have celebrated the common man--Walt Whitman, W.C. Williams, Robert Pinsky--and now, in this first book, we see a young poet bringing his own highly musical truth-telling, wonder, and humor to the unbeautiful industrial landscape, and the hard-luck characters, who haunted a boyhood along the Rahway River. Without an ounce of pretension--about either his working-class roots or the deftly turned poetry he makes of it--Hennessy revisits with increasing power the elemental components of his youth and home town. Most affecting are two monuments: the Merck chemical plant (whose 'single gleaming green' served as 'our Northern Lights') and the 'silver, flame-hipped towers' of the Exxon refinery. (Another factory-worshipping poet, W. H. Auden, would surely have loved all this.) Hennessy's witty mythologizing gift, too--which recasts friends and family in the role of Persephone, or Job--accords us not just delight but dignity: we come away seeing more clearly the confinements, and stubborn attachments, of our own daily lives."--Mary Jo Salter
"Like Paul Muldoon, like Harryette Mullen, John Hennessy inhabits a poetic universe all his own. Whether he is channeling the posthumous ruminations of Ophelia, grappling with his mother's bizarre cosmology, or explaining mortality to his young son, Hennessy's music recalls the wild delirium of a Klezmer band. This startling new voice is really a houseful of voices, sage and seductive, heartbreaking and hilarious by turns. Bridge and Tunnel is a book that never forgets the most important of Stevens' three dicta: 'It Must Give Pleasure.'"--Daniel Hall
"As its title predicts, at the heart of Bridge and Tunnel is The Other Side, the state of mind that is New Jersey, Manhattan's oily shadow--the Oranges, the kills, the Merck plant. With perfect pitch, John Hennessy hits all the flats and sharps of life there--the jogging bras and bucket-drops, the old time religion and slag heaps. His eye is canny, his language is keen, his take is wise and acute. This books sizzles!"--J.D. McClatchy
"John Hennessy's poems have a weird and beautiful ability to be sumptuous yet lean, wild yet measured. The unbearable beat of life rushing by is suffused beneath his lines, but he is trying to get it all down, to record as much as he can, until the next thing happens and the next thing and the next."--Jonathan Ames, author of Wake Up, Sir! and What's Not to Love?
"John Hennessy, a poet of high energy, freights every line with rich and glowing ore. I'm struck by his verve, his compassion, his wry humor, his engagingly quirky originality. His poems abound in verbal music that challenges lips and jaw muscles. Bridge and Tunnel deserves to arrive with banners flying and a forty-piece brass band."--X.J. Kennedy
"John Hennessy's poetry is chiseled on the heart. It is imbued with the oldest-fashioned, powerfully reaffirmed virtues of emotional engagement, life-searching eye, compact and scintillating line, organic metrical mastery, serious quest and unique voice. Hennessy delivers a fresh shock of synesthesia, each poem a resonant beam of sense, sound, life, memory, passion, thought, faith and doubt, all played in musical and visual counterpoint against each other."--Philip Nikolayev, author of Monkey Time, winner of the Verse Press Poetry Prize
John Hennessy grew up in New Jersey and went to Princeton on a Cane Scholarship. He has lived in New York, Amsterdam, and Austin, and completed graduate degrees at the University of Texas and the University of Arkansas. His poems appear in The New Republic, The Yale Review, New Letters, Ontario Review, Fulcrum Annual, Harvard Review, Salt (UK), Notre Dame Review, Jacket (Australia), The Sewanee Review, and Best New Poets 2005. In the fall of 2007 he will be the Resident Fellow at the Amy Clampitt House; these days he lives with his family in Amherst and teaches at the University of Massachusetts.
Cover art: Mira Bartok
ISBN: 978-1933456553, 88 pages