Mania Klepto: The Book of Eulene, Poems by Carolyne Wright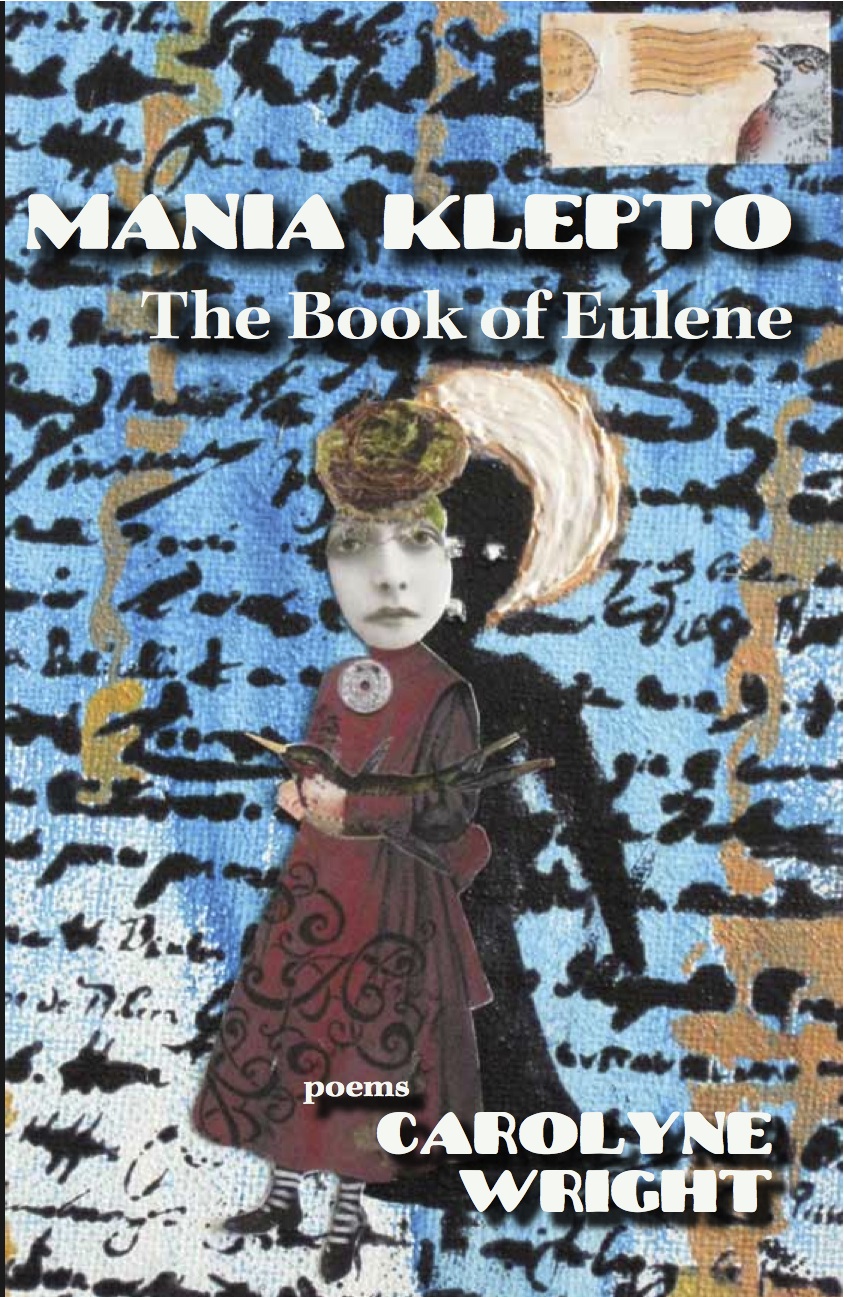 Eulene, the unforgettable protagonist of Carolyne Wright's Mania Klepto, takes us on an energetic romp through her vision. These brisk poems are never dull, often funny, and always illuminating.
Sample Poems by Carolyne Wright
"Of all the descendants of Berryman's Henry Pussy-cat, Carolyne Wright's Eulene has got to be the most, to use the poet's own term, bodacious. This 'gregarious loner' weaves her formidable presence from Puyallup to Calcutta, from childhood memories to apocalyptic myth. Narrative, satire, and lyric meditation come together in an intricate, vivid portrait. In Mania Klepto, Eulene demands her say— and she says a lot."—Don Bogen, The Cincinnati Review
"Eulene's deft satire cuts two ways, at Indian folkways and at Eulene's American expectations and needs, and all in fresh, vivid language. . . . Wright has created a complex character in Eulene, and the collected work about her is certain to attract the attention it deserves."—Laurence Goldstein, Michigan Quarterly Review
"Carolyne Wright's Mania Klepto: The Book of Eulene is a masterful, imaginative collection focusing on Eulene, one of the most memorable characters to ever grace the pages of a book of poems. Nothing keeps Eulene down, and nothing keeps these poems from soaring. This inspired collection of funny, audacious poems will leave you reeling with delight and wonder."—Jim Daniels, author of Revenge of the Crash-Test Dummies
"Eulene, star of a tour-de-force in which an alter-ego is brought to life, knows whoshe is and generously tells us." —Mark Jarman, author of Unholy Sonnets and Bone Fires: New and Selected Poems

"Eulene promises to be a compelling, disquieting figure." —W. D. Snodgrass, Pulitzer Prize in Poetry

"Carolyne and Eulene rule." —David Wagoner, Ruth Lilly Poetry Prize
Carolyne Wright has published eight books and chapbooks of poetry. Her most recent collection, A Change of Maps (Lost Horse Press, 2006), was nominated for the LA Times Book Awards, and was a finalist for the Idaho Prize and Alice Fay di Castagnola Award from the Poetry Society of America. It won the 2007 Independent Book Publishers Bronze Award for Poetry, and was reviewed in The Iowa Review 38/1, and in The Cortland Review: http://www.cortlandreview.com/features/08/spring/rigsbee_r.html Wright's other recent collection, Seasons of Mangoes and Brainfire (Eastern Washington UP/Lynx House Books, 2nd edition 2005), won the Blue Lynx Prize, Oklahoma Book Award in Poetry, and American Book Award from the Before Columbus Foundation. Other books include Premonitions of an Uneasy Guest (AWP Award Series), Stealing the Children (Ahsahta Press), an invitational chapbook, Carolyne Wright: Greatest Hits 1975-2001 (Pudding House); a collection of essays, A Choice of Fidelities: Lectures and Readings from a Writer's Life (Ashland Poetry Press); and volumes of poetry translated from Spanish and Bengali. Just published is the anthology Majestic Nights: Love Poems of Bengali Women (White Pine Press, 2008).
ISBN 978-1936370412, 106 pages, $19.00